Heart International 2016; 11(1): e32-e40
DOI: 10.5301/heartint.5000232
Influence diagram of physiological and environmental factors affecting heart rate variability: an extended literature overview
Julien Fatisson1, Victor Oswald1,2, François Lalonde1,3
1 Association of Research in Osteopathy in Quebec (AQRO), Montreal – Canada
2 Department of Neurosciences, Faculty of Medicine, University of Montreal (UdeM), Montreal – Canada
3 Departement of Physical Activity, Faculty of Sciences, University of Quebec in Montreal (UQÀM), Montreal – Canada
ABSTRACT
Heart rate variability (HRV) corresponds to the adaptation of the heart to any stimulus. In fact, among the pa-thologies affecting HRV the most, there are the cardiovascular diseases and depressive disorders, which are as-sociated with high medical cost in Western societies. Consequently, HRV is now widely used as an index of health. In order to better understand how this adaptation takes place, it is necessary to examine which factors directly influence HRV, whether they have a physiological or environmental origin. The primary objective of this research is therefore to conduct a literature review in order to get a comprehensive overview of the subject.
The system of these factors affecting HRV can be divided into the following five categories: physiological and pathological factors, environmental factors, lifestyle factors, non-modifiable factors and effects. The direct in-terrelationships between these factors and HRV can be regrouped into an influence diagram. This diagram can therefore serve as a basis to improve daily clinical practice as well as help design even more precise research protocols.
Keywords: Cardiac coherence, Heart rate variability, Influence diagram, Literature overview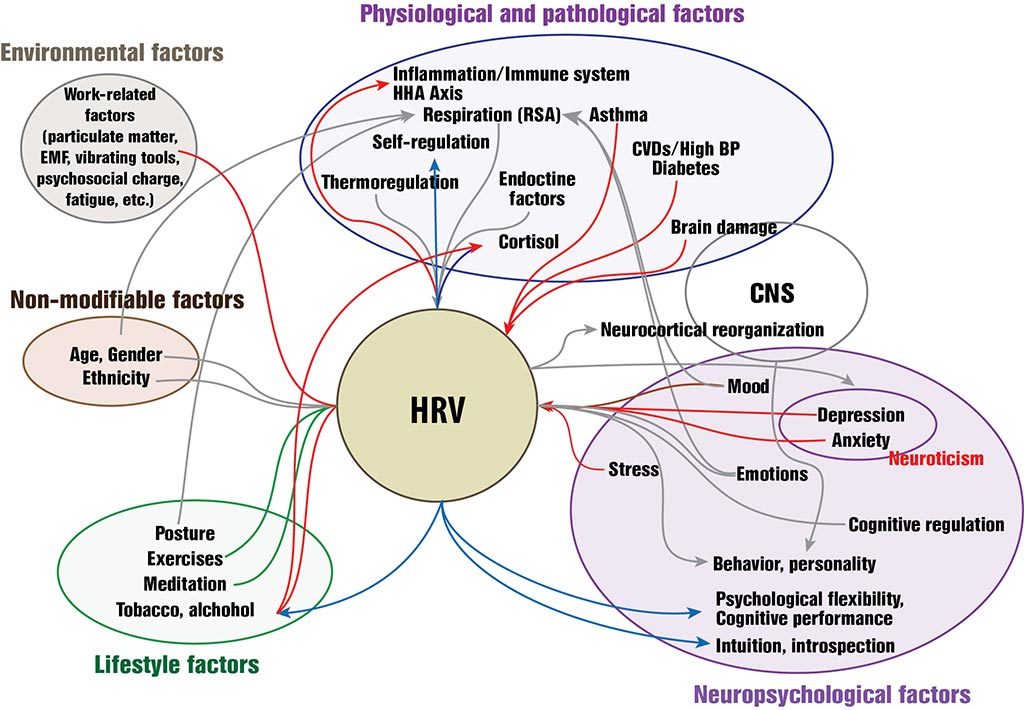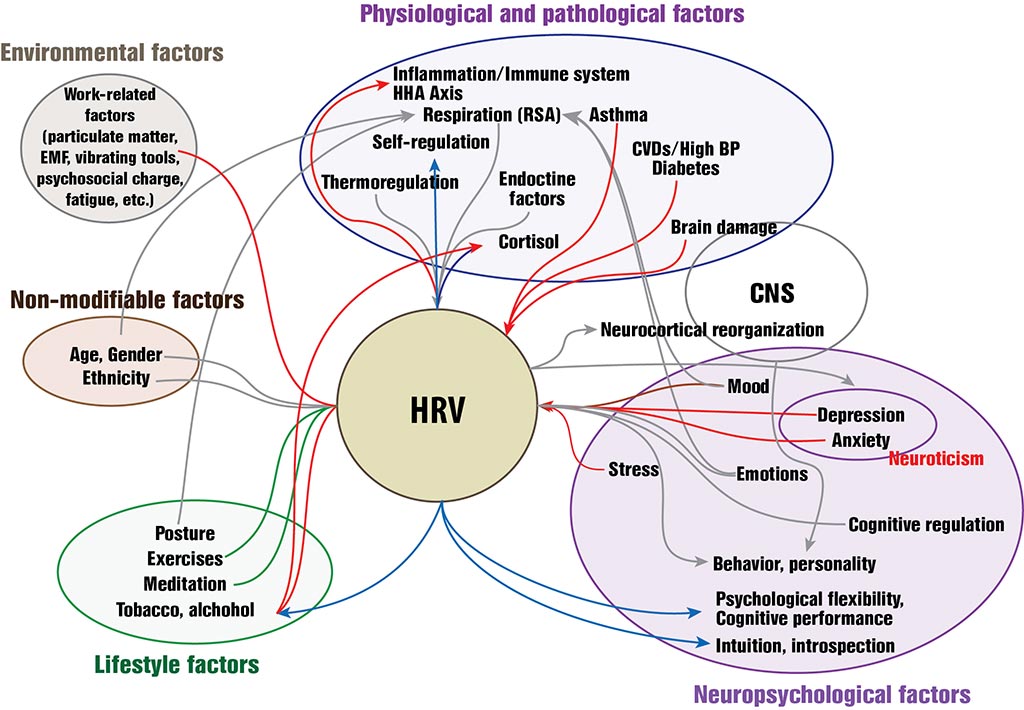 Influence diagram of cause of effect factors linked with heart-rate variability (HRV). The direction of the arrows indicates a cause-to- effect link between related factors. While red arrows indicate a deleterious effect and green or blue arrows a beneficial one, purple arrows refer to a link for which the effect can be deleterious or beneficial. Blue arrows are specific to the heart coher- ence state. Red, green and blue arrows correspond to significant effects while grey arrows indicate a link for which statistical significance was not achieved.
Read the full study: Factors Affecting HRV