Body Health Analyzer Options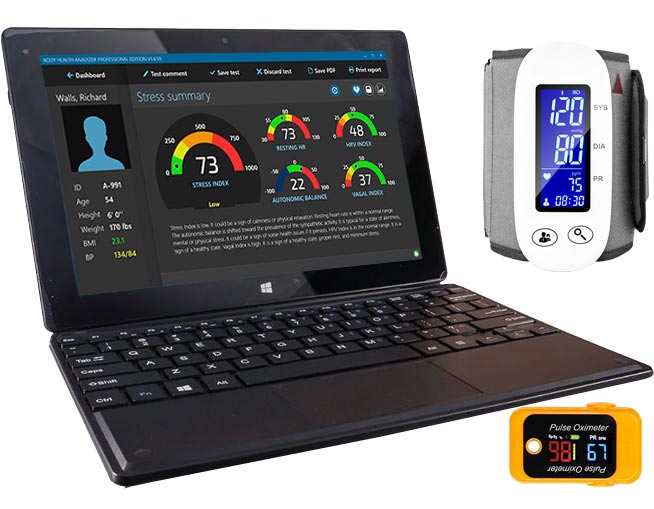 Body Health Analyzer is a new high-quality instrument designed for professionals and home users to assess, track and manage health with ease.
Body Health Analyzer is based on years of science behind Heart Rate Variability combined with a new artificial intelligence capability to evaluate health state, chronic disease progression, manage stress, and much more.
Using medical-grade sensors allows the Body Health Analyzer to read health-related metrics with high accuracy in a simple non-obtrusive way.  
Body Health Analyzer now comes in three different editions: Professional, Limited, and Home. The Limited edition has all the features of our Professional Edition, with the only difference being limited to storing up to 50 client records in the account. This makes the Limited Edition perfect for health professionals, spas, personal trainers, and fitness facilities to try out the platform with the ability to upgrade to the Professional Edition at any time. To upgrade you just pay the difference between the versions.

See our Shop for product options and prices.
Here are the key features available in all three editions:
BODY HEALTH ANALYZER

Pro

Limited

Home


System Includes:

– Medical-grade Bluetooth pulse oximeter (SpO2) finger clip

– BHA software for Windows 10

– Optional

Medical-grade Bluetooth blood pressure monitor

– Optional

Windows 10 tablet with 10″ touch-screen, a detachable keyboard and case, and pre-installed BHA software

BHA Software Features:

Health Assessment Testing:

– Quick 5-min test recording

– Optional BP measurement with a wireless BP monitor

– Stress assessment panel: Stress Index, Autonomic Balance, Resting HR, HRV Index, Vagal Index

– Health State assessment panel: Adaptation Effort, Adaptation Reserve, Health State Index, SpO2

– Manually registered: Blood Pressure, Height, Weight, BMI

Breathwork Training:

– Training achievement metrics: Resonance, Training Focus, HR Variation

– Biological Age and Aging Speed estimation

– Standard breath guide presets: Standard RSA, Yoga Square Breathing, Zen 4-7-8, Deep Breathing

– Custom built breath guides

– Audio breath guide using a musical instrument scale

– Breathwork training with imported MP3 playback

Additional Features:

– Comprehensive health test reports

– Comprehensive Breathwork training reports

– Configurable 2-metric history charts

– Saving reports to PDF

– Report printing

– Exporting data to Excel files

– Meets key HIPAA compliance requirements: encrypted data storage, strong passwords, regular password changes

Maximum number of stored clients / users

Unlimited

50

6

Who will benefit from using the Body Health Analyzer?
Professional Editions:
Both Professional editions provide health assessment and stress management tools good for various professionals such as medical doctors, therapists, personal trainers, psychologists, nutritionists, chiropractors, and many others. The Limited edition is only limited to 50 accounts.
Many health conditions have the autonomic nervous system function involved. Health assessment data provided by BHA helps to evaluate the autonomic function. Compared to normal ranges, test readings indicate how significantly the autonomic function is affected. Tracking test metrics over the course of treatment may show its effectiveness.
Stress is greatly involved in many health conditions. Chronically elevated stress makes symptoms worse and decreases the effectiveness of treatment options. The stressed body gets out of autonomic balance, exhibits decreased HRV index, elevated stress index, and elevated resting heart rate. Regular health assessment tests may help in evaluating chronic stress and its influence on treatment outcome.
Stress management plays a significant role in reducing long-lasting stress and its negative effects on health. Stress management professionals may use the Body Health Analyzer to help their individual or corporate clients to manage their stress and reduce its negative health consequences.
This product may be used in schools to teach students to reduce stress and improve their cognitive abilities, which could be significantly impaired by stress.
Home Edition:
Home users may benefit from using this product if they have chronic conditions affecting the autonomic nervous system function. Health assessment data gives them a picture of how much their body is affected by stress, what is their overall health state and how much reserves their body has to manage the body homeostasis. Compared to the normal ranges, test readings indicate how significantly the autonomic function is affected. Tracking test results over time let them see if their treatment works.
Regular use of Breathwork training may help to reduce stress and improve treatment of the existing health conditions.
Healthy individuals may use the product to track their health and see if their current lifestyle may have any negative effects on health. Besides, they may use it to monitor for early signs of possible health changes when no symptoms show up yet.
Regular use of Breathwork training 2 times a day will help to fend off many stress-induced health problems.
See our Shop for product options and prices.
Requirements:
The Body Health Analyzer is a Windows 10 application. It will run on any Windows 10 device. If you are looking for an affordable Windows 10 solution to run our platform on we highly recommend the latest 10″ Fusion 5 tablets: FWIN232 Pro S2 (8 GB RAM/128GB Storage) or FWIN232 PLUS S2 (6 GB RAM/64GB Storage). We use the Micro SD card slot to add an extra 512GB of storage. There is also an optional docking keyboard available if you would like to use it like a laptop.
The BHA runs fabulously on either tablet but you can also use them for surfing the Internet, running office applications, email, webcam and mic for online meetings, or as a book reader and entertainment center for TV shows and movies. Very compact, portable, useful, and affordable.