Body Health Analyzer Professional Edition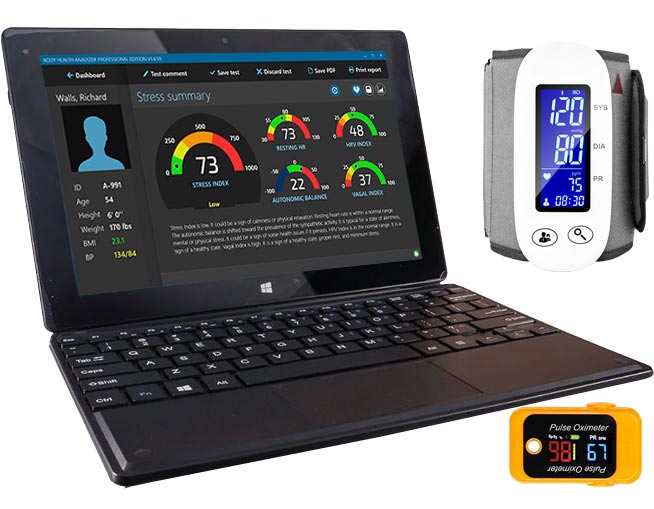 Available in English. French, Spanish, Chinese, and Japanese language options are coming soon.
Available with and without a Windows 10 tablet and a wireless BP monitor. See our Shop for options.
Body Health Analyzer Professional Edition comes with:
Bluetooth pulse oximeter (SpO2) finger sensor

BHA Professional Edition software for Windows 10
Breathwork Anti-Stress Biofeedback Training Program
Optional Windows 10 tablet with a detachable keyboard and case, with preinstalled BHA software
BHA Professional Edition features:
5 min HRV-based health assessment test providing metrics:
Stress Index
Autonomic Balance
Resting HR
HRV Index
Vagal Index
Adaptation Effort
Adaptation Reserve
Health State Index
SpO2 Levels
Manually registered metrics:
Blood pressure
Weight
Height
BMI
Breath paced HRV biofeedback training providing metrics:
Resonance
Training Focus
HR Variation
Unlimited number of breath guides including presets: Respiratory Sinus Arrhythmia, Square Yoga, Zen 4-7-8, Deep Breathing
Auditory pacing with a musical instrument scale
Breathwork training with imported audio tracks (it could be your favorite music, meditation tracks or self-help speech). We highly recommend you consider Entrance meditation and Self-Help tracks. You can even download and try Enhance tracks for free here: Free Tracks
Additional Features:
Comprehensive health test / breathwork training reports
Configurable 2-metric history charts
Report printing to PDF and local printers
Exporting test and training data to Excel files
Meets key HIPAA requirements: encrypted data storage, strong passwords, regular password changes
Potential use cases: Professional health caregivers providing various kinds of treatment to their patients when autonomic nervous system is directly or indirectly involved in pathogenesis of their conditions may benefit from using this product. The product health assessment test data gives insight in the state of the patient's autonomic function affected by their health condition. Compared to normal ranges, test readings indicate how significantly the autonomic function is affected. By tracking test metrics from test to test over the course of treatment may indicate whether this treatment is effective with regard to improvement of the autonomic function.
Stress plays a big role in the flow of many health conditions. Chronic elevated stress may exacerbate symptoms and/or decrease the effectiveness of treatment means. When stressed the patient is out of autonomic balance, exhibits decreased HRV index, elevated stress index, and elevated resting heart rate. Regular health assessment tests may help in evaluating chronic stress and its influence on treatment outcome.
Using HRV biofeedback training on a regular basis may help in reducing stress and thus improving treatment of primary health conditions.
Stress management plays a significant role in reducing long-lasting stress and its negative effects on health. Stress management professionals having private practices or providing services to corporate employees will benefit from using HRV biofeedback training on a regular basis and periodic health assessment testing to monitor stress levels and improve overall health in served clientele.
Similar to corporate stress management and health assessment, this product may be used in schools to teach students to reduce stress and thus improve their learning process, which is known to be significantly impaired by stress.
Download Manual: BHA OPERATING MANUAL
Download Manual: BHA HEALTH TEST READINGS

Download Manual: BHA ANTI-STRESS BREATHWORK READINGS